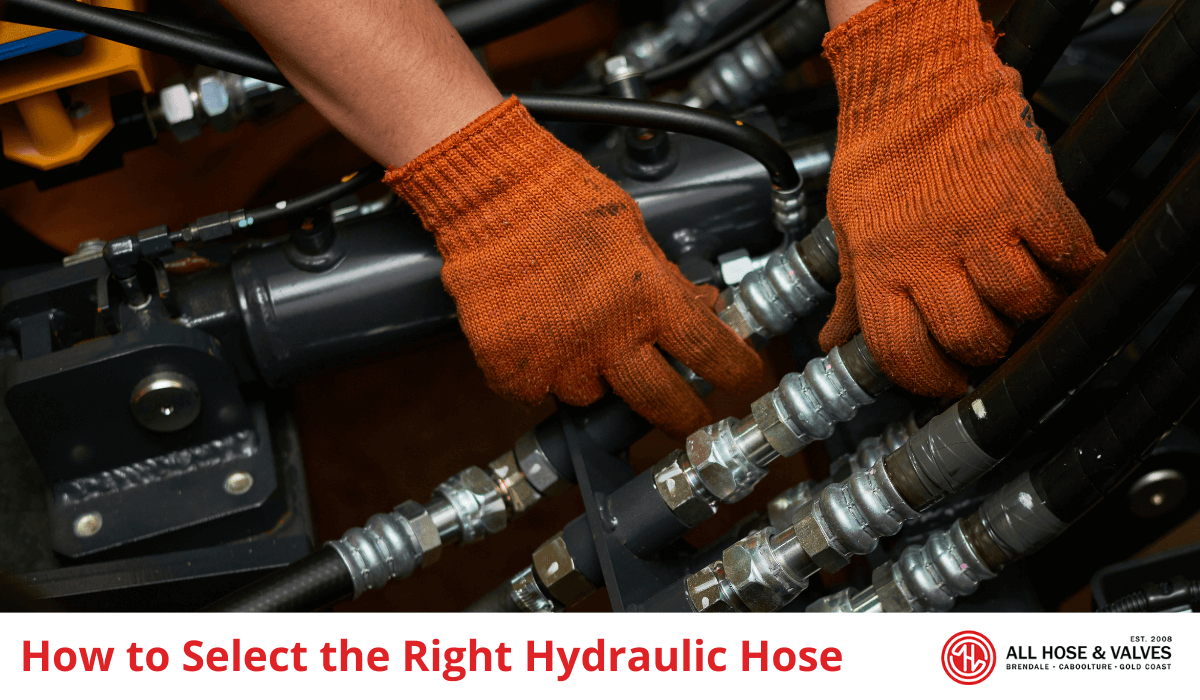 Choosing the right hydraulic hose involves several critical considerations, including understanding the application's needs, evaluating different hose materials, and considering various factors like size, temperature, application, media, and pressure. The following sections will guide you through these steps in detail, arming you with the essential information you need to make the best choice for your specific project requirements.
This guide aims to equip you with the knowledge and understanding you need to make informed decisions when selecting a hydraulic hose. Read on to discover the complexities of hydraulic hoses and learn how to choose the one that best suits your project needs.
Hydraulic Hose Essentials
Before diving into the selection process, it's important to familiarise yourself with some key concepts and components that make up a hydraulic hose.
Safety Factors
The safety factor of a hydraulic hose refers to its ability to withstand pressure. It's defined as the ratio of the hose's burst pressure to its maximum working pressure. A higher safety factor indicates a higher level of safety and durability, ensuring the hose can handle occasional pressure spikes without failing. It's crucial to select a hose with an appropriate safety factor for your application to ensure operational safety and extend the hose's lifespan.
Hose End Assembly
The hydraulic hose end assembly is an important component to consider when choosing a hydraulic hose. It refers to the end connections used to attach the hose to the equipment. These could include fittings, adapters, or couplers. The type of assembly needed depends on the system's design and requirements. You must ensure that the chosen assembly is compatible with both your hose and your equipment for a secure and leak-free connection.
Rubber Hoses
Rubber hoses are one of the most common types of hydraulic hoses, known for their versatility and durability.
Rubber hoses offer several advantages. They are extremely flexible, allowing for easy installation even in tight spaces. They're also resistant to a variety of elements, including heat, oil, and weather, making them suitable for a wide range of applications.
However, rubber hoses are not without their drawbacks. They can be heavier than alternatives such as thermoplastic hoses, which may be a consideration for certain applications. Over time, rubber can also degrade or harden, potentially leading to leaks or failures.
Suggested Reading: Rubber Hoses: Everything You'll Ever Need to Know
Thermoplastic Hoses
An alternative to rubber hoses, thermoplastic hoses are made from a type of plastic that changes its shape when heated and then retains that shape once cooled.
Despite being lighter and more flexible than rubber hoses, thermoplastic hoses have some disadvantages. They can be more susceptible to abrasion and are less resistant to high temperatures and UV light. Their reduced chemical resistance may also make them unsuitable for certain applications.
Each type of hose has its strengths and weaknesses, and the choice between rubber and thermoplastic will depend on the specific needs of your application. The following sections will delve deeper into the factors you need to consider when making this choice.
5 Factors to Consider When Selecting a Hydraulic Hose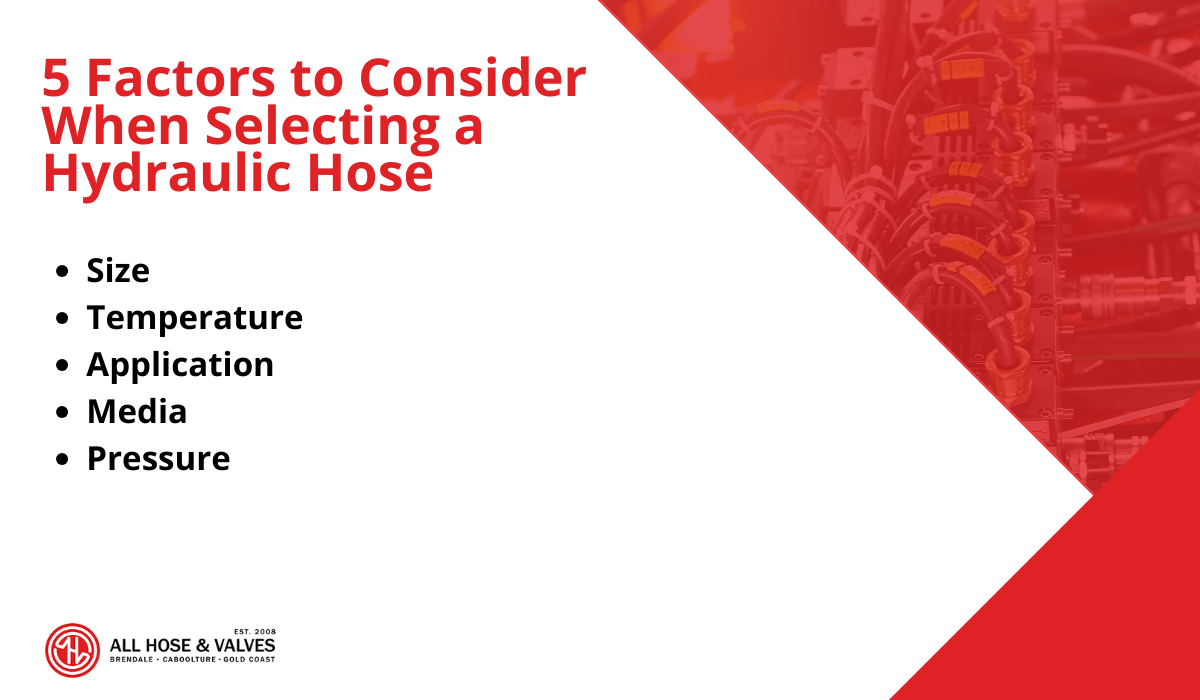 Making an informed decision when selecting a hydraulic hose involves a careful examination of several interrelated factors. Each of these aspects plays a significant role in determining the suitability of a particular hose for your system. Let's dive deeper into these critical considerations.
1.  Size
The size of a hydraulic hose refers to its inside diameter (ID), outside diameter (OD), and length. Appropriate hose size is vital for maintaining adequate flow and pressure within the system. A hose that's too small may result in high fluid velocity, leading to pressure drops and potentially damaging the hose and other system components. On the other hand, a hose that's too large might be unnecessarily heavy, bulky, and expensive. The hose length should also be adequate to allow for flexibility and movement within the system without being excessively long, which could lead to snags or abrasion.
2. Temperature
Temperature considerations involve both the environmental temperature where the hose will be operating and the temperature of the hydraulic fluid flowing through the hose. The hose material and construction must be able to withstand these temperatures without degrading or losing performance. For example, if you are operating in a high-temperature environment or the fluid temperature is high, you would need a hose with high-temperature resistance.
3. Application
The application of the hydraulic hose, or how and where it will be used, also influences your selection. For instance, if the hose is going to be used in a high-vibration or high-impact application, it needs to be robust and durable. Similarly, if it's used in a tight space, flexibility might be a key factor.
4. Media
"Media" refers to the fluid being carried by the hydraulic hose. Different types of hydraulic fluids, such as mineral oil, synthetic oil, water-glycol mixtures, or others, can have different chemical properties. The hose material must be compatible with the hydraulic fluid to avoid chemical reactions that could degrade the hose.
5. Pressure
Pressure is a critical consideration when selecting a hydraulic hose. The chosen hose must be capable of withstanding the system's maximum operating pressure. This includes considering the system's pressure spikes, which could be significantly higher than the usual operating pressure. Notably, the hose's pressure rating should always be higher than the system's maximum pressure to provide a safety margin.
By taking into account these key factors – size, temperature, application, media, and pressure, you can ensure that you're selecting the right hydraulic hose for your specific needs. Remember, a properly selected and installed hydraulic hose can result in improved system performance, enhanced safety, and lower maintenance costs.
Other considerations when selecting the hydraulic hose for your application
While the size, temperature, application, media, and pressure are the five main factors to consider when choosing a hydraulic hose, there are other critical elements that require your attention. These additional factors could play a significant role in ensuring the safety and efficiency of your hydraulic system.
Hose Material
The hose material should be compatible not only with the hydraulic fluid it will carry but also with the environmental conditions in which it will operate. Whether the environment is abrasive, corrosive, or exposed to extreme temperatures or UV light, the hose material needs to withstand these conditions to ensure a long and reliable service life.
Related reading: Signs You Should Replace Your Hose
Hose Assembly
The hose assembly process can impact the hose's pressure rating and performance. Proper assembly procedures should be followed, including the use of proper hose fittings and adherence to the hose manufacturer's assembly recommendations.
Suggested Reading: How to Choose the Right Hose for Your Industrial Hose Assembly
Hose Routing
Proper routing can help avoid hose failures due to abrasion, improper bending, or excessive strain. Hose assemblies should be routed to avoid sharp bends, which can put unnecessary stress on the hose, leading to premature failure.
Hose Protection
Depending on the operating environment, protective devices like guards or sleeves might be necessary to protect the hose from potential damage from heat, crush forces, or abrasive conditions.
Maintenance and Inspection
Regular maintenance and inspection of hydraulic hoses are essential for ensuring their longevity and the overall safety of the system. Signs of wear or damage, such as cuts, abrasions, leaks, kinks, or changes in the hose diameter, should be immediately addressed to prevent catastrophic hose failure.
Hose Sizes
The size of your hydraulic hose is another critical aspect to consider. It's not just about length, but also about the inside diameter (ID), which directly affects the flow rate and pressure of your system. The choice between shorter and longer hose runs largely depends on your system's layout and your application requirements.
Hose Runs Less than 20 Feet Long (6.1m)
For shorter hose runs, which are less than 20 feet (or 6.1m) long, you might have more flexibility in your hose selection. In these cases, a larger ID might not be necessary since the distance the fluid has to travel is relatively small. However, it's still crucial to ensure that the hose you choose can handle the system's pressure and is compatible with the fluid you're using.
Hose Runs Longer than 20 Feet (6.1m)
For longer hose runs, those over 20 feet or 6.1m, it's especially important to select the right size to maintain pressure and avoid losses due to friction. If your hose is too small in diameter for a longer run, it could lead to high-pressure drops and inefficient operation. A larger diameter might be necessary to ensure adequate flow. Always remember to balance the need for higher flow with the increase in cost and weight that comes with larger hoses.
Hose End Fittings
Hose end fittings are used to connect the hydraulic hose to the rest of the system. These come in a wide variety of shapes and sizes, including threaded, flange, and quick-connect styles. The type you choose will depend on your system's requirements and the type of connection you need to make.
It's critical to ensure that your chosen fitting is compatible with your hose in terms of size, material, and pressure rating. Always consider the nature of your application, the fluids being used, and the required pressure when choosing hydraulic hose fittings. Mis-matched or poorly chosen fittings can lead to leaks, system failure, and even safety hazards, so it's well worth taking the time to make the right choice.
The selection of the right hydraulic hose is not merely about choosing the correct size, temperature rating, and pressure capacity. It's about taking a comprehensive view that also includes considerations about the hose material, assembly, routing, protection, and ongoing maintenance. This careful selection will ultimately save you time and money whilst ensuring the safety and performance of your hydraulic system.
Conclusion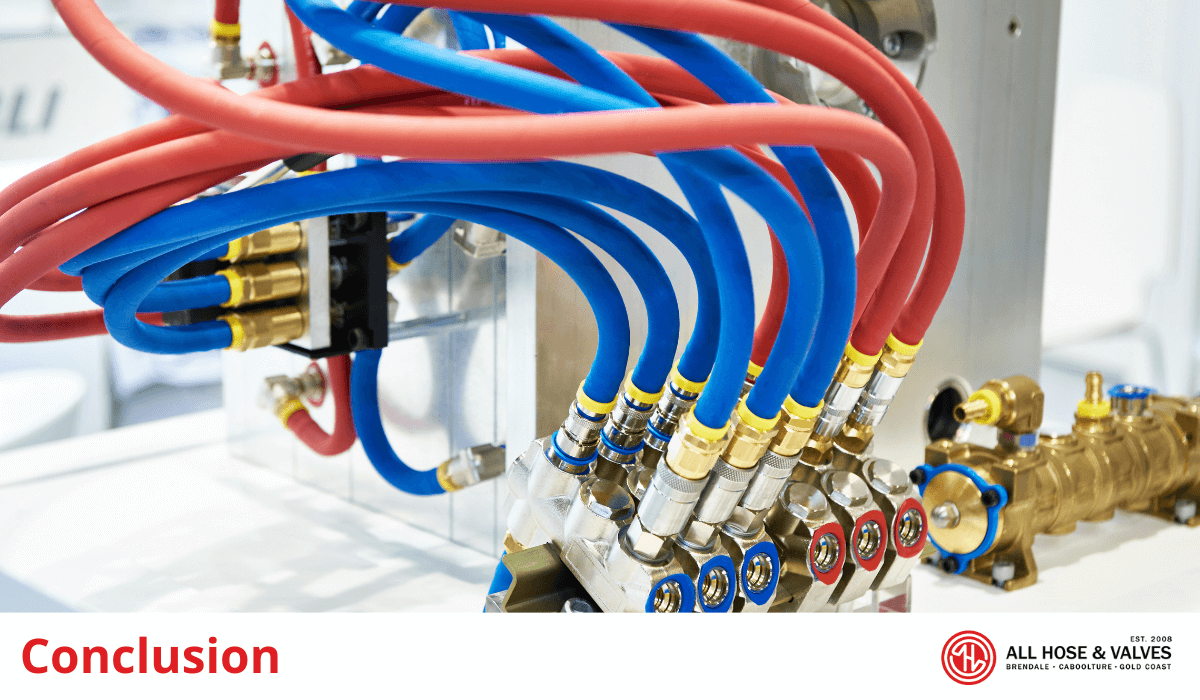 Choosing the right hydraulic hose is an essential task that directly influences the performance, safety, and longevity of your hydraulic system. By making a careful, informed decision, you can prevent costly system failures, reduce maintenance needs, and ensure the efficient operation of your machinery.
At All Hose and Valves, we're more than just a supplier of industrial hose, pipe fittings, and valves. With our wide range of products, which includes everything from flexible hose supplies for plumbing or RV projects to industrial hose and fitting supplies, clamps, ducting, valves, rubber hoses, PVC lay flat hoses, and more, we're your reliable partner for all your hose-related needs. Whether you're an entrepreneur just starting your journey, a small business seeking to expand, or a large corporation with complex requirements, we're committed to providing you with the highest quality products and expert advice. Contact us or visit our physical stores today.