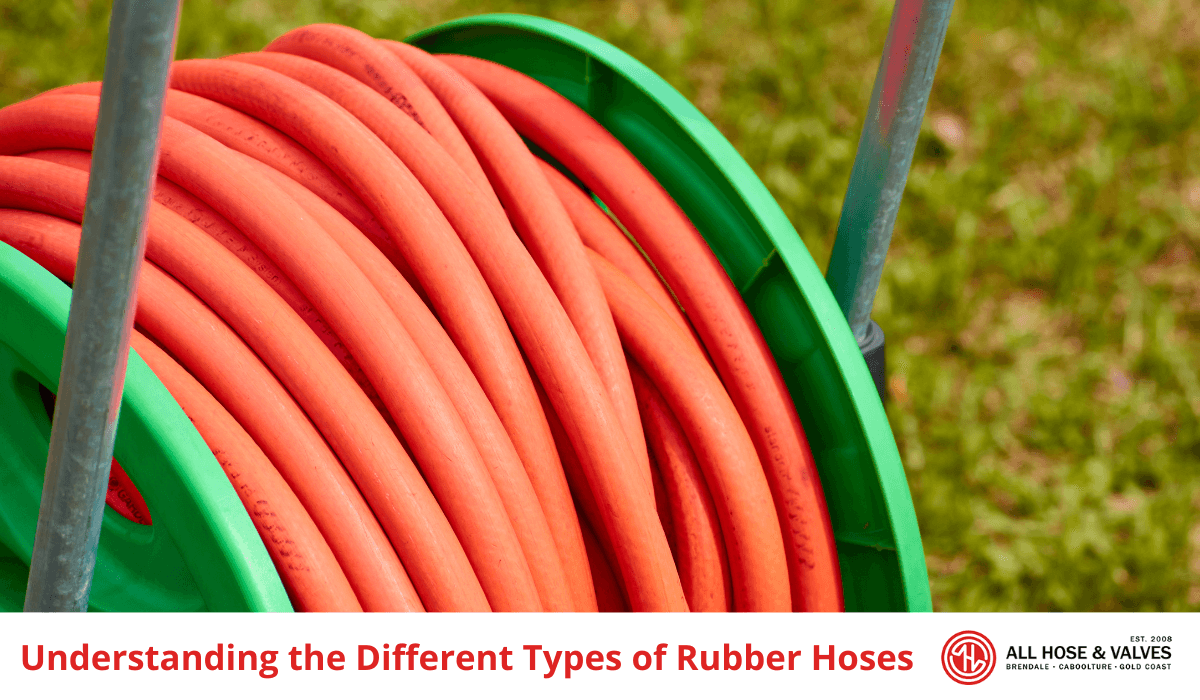 Rubber hoses are the unsung heroes of countless industries and applications, silently working behind the scenes to transport fluids, gases, and even solids from one point to another. Whether you're aware of it or not, chances are you've encountered rubber hoses in various forms throughout your daily life. From the garden hose that waters your plants to the heavy-duty hoses used in industrial settings, these versatile conduits play a crucial role in enabling efficient and reliable fluid transfer.
In this comprehensive guide, we delve into the world of rubber hoses, exploring their diverse types, applications, and unique characteristics. By the end of this guide, you'll have a solid foundation of knowledge about the different types of rubber hoses, allowing you to navigate the complex world of hose selection with confidence. Whether you're seeking a hose for residential purposes or industrial applications, this resource aims to empower you to make the right choice and maximise the efficiency and reliability of your fluid transfer systems.
Understanding Rubber Hoses: Basics and Construction
Rubber hoses may appear simple on the surface, but their construction and design involve a fascinating blend of science and engineering. In this section, we will delve into the fundamental aspects of rubber hoses, from the basic definition of rubber hoses to the intricate components that make them functional, we will explore the essential elements that contribute to their durability, flexibility, and overall performance.
By understanding the basics and construction of rubber hoses, you'll gain valuable insights into the inner workings of these essential conduits and develop a deeper appreciation for their versatility and functionality.
Components of a rubber hose
A rubber hose is not just a simple tube; it consists of several essential components that work together to provide strength, flexibility, and durability. Understanding these components will give you a deeper appreciation of the complexity involved in designing and manufacturing rubber hoses. Let's explore the critical components of a rubber hose:
Inner Tube
The inner tube is the core component of a rubber hose. It is responsible for conveying the fluid or material being transferred. Typically made of synthetic rubber, such as nitrile rubber or EPDM (ethylene propylene diene monomer), the inner tube is designed to be resistant to the specific fluid or material it will come in contact with. It ensures compatibility and prevents any chemical reactions or degradation.
Reinforcement Layers
Reinforcement layers provide strength and stability to the rubber hose. They are usually made of synthetic fibres or steel wire braids, depending on the application and desired strength. Reinforcement layers prevent the hose from collapsing under a vacuum or bursting under high pressure. These layers also contribute to the hose's flexibility and resistance to kinking.
Cover
The outer cover of a rubber hose acts as a protective shield. It guards against abrasion, environmental elements, and chemical exposure. The cover is typically made of synthetic rubber or a blend of rubber and other materials like PVC (polyvinyl chloride). It enhances the hose's resistance to wear and tear, UV radiation, and ozone damage. The cover may also have additional properties, such as flame resistance or high-temperature resistance, based on specific application requirements.
Coupling and Fittings
Couplings and hose fittings are crucial components that enable the connection of the rubber hose to other equipment or devices. They provide a secure and leak-free attachment, ensuring efficient fluid transfer. Common types of couplings and fittings include threaded connectors, quick-connect fittings, and flanges. These components are designed to match the specific hose size and end connections required for a particular application.
Additional Reinforcements and Features
Depending on the intended use and environmental conditions, rubber hoses may incorporate additional reinforcements or features. For instance, hoses used in high-pressure applications may have an extra layer of wire braiding or spiral reinforcement. Some hoses may have built-in anti-static properties, preventing the buildup of static electricity. Other hoses might include lining materials to resist oil, chemicals, or heat.
Understanding the components of a rubber hose allows you to assess its capabilities, performance, and suitability for different applications. Each component plays a crucial role in ensuring the hose's functionality, longevity, and ability to withstand demanding conditions. By considering these factors, you can make informed decisions when selecting the appropriate rubber hose for your specific needs.
Manufacturing processes
The manufacturing processes involved in creating rubber hoses are intricate and precise, combining various techniques and technologies to achieve the desired characteristics and performance. Let's explore the primary manufacturing processes used in the production of rubber hoses:
Extrusion
Extrusion is the most common manufacturing process for rubber hoses. It involves forcing rubber compound through a die of the desired cross-sectional shape. The rubber compound, typically in the form of pellets or strips, is fed into an extruder, where it is heated and mixed to achieve uniform consistency. The extruder then pushes the molten rubber through the die, forming the shape of the hose. Cooling and curing processes solidify the rubber, giving it strength and durability.
Mandrel-Building
Mandrel-building is another method employed for manufacturing rubber hoses, particularly for hoses with complex shapes or intricate internal structures. In this process, a mandrel, or a pre-formed tube, is used as a mold. Layers of rubber compound, including the inner tube and reinforcement layers, are wrapped around the mandrel. The rubber is then cured, and the mandrel is removed, leaving behind the final hose shape.
Hose Assembly
Once the rubber hose components are formed, they go through the assembly process. This involves joining the different components together to create a complete hose. Couplings, fittings, and connectors are attached to the hose ends, ensuring a secure and leak-proof connection. Various techniques such as crimping, swaging, or clamping may be used, depending on the type of hose and the specific application requirements.
Testing and Quality Control
To ensure the integrity and performance of rubber hoses, rigorous testing and quality control procedures are conducted throughout the manufacturing process. This includes checking the dimensions, strength, and flexibility of the hoses, as well as conducting pressure tests to verify their ability to withstand specified working pressures. Hoses may also undergo tests for resistance to abrasion, temperature extremes, and exposure to specific chemicals or fluids.
Customisation and Specialisation
Manufacturers often offer customisation options to tailor rubber hoses to specific applications. This can include modifying the inner tube material, reinforcement layers, cover properties, or overall dimensions to meet unique requirements. Specialised manufacturing processes may be employed for hoses that need additional features, such as heat resistance, electrical conductivity, or low friction coatings.
The manufacturing processes employed in rubber hose production require precision, expertise, and adherence to quality standards. By employing advanced techniques and quality control measures, manufacturers ensure that rubber hoses meet the required specifications, making them reliable and efficient for a wide range of applications. Understanding these processes provides insight into the complexity involved in producing rubber hoses and the attention to detail required to create high-quality products.
The Different Types of Rubber Hoses
Rubber hoses come in a diverse range of types, each designed to excel in specific applications and environments. Understanding the different types of rubber hoses is crucial for selecting the most suitable option for your particular needs. Let's explore some of the commonly encountered types of rubber hoses: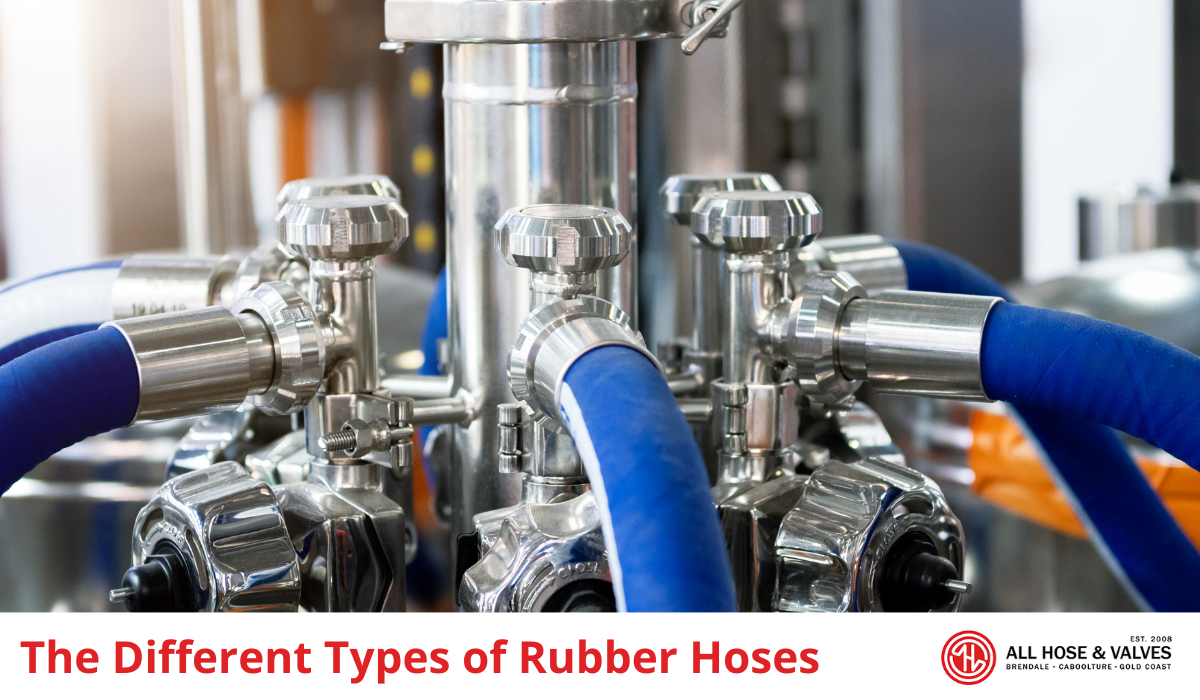 General-Purpose Hoses
General-purpose hoses are versatile and widely used in various applications. They are designed to handle a range of fluids and materials, including water, air, and non-corrosive liquids. These hoses typically feature a synthetic rubber inner tube, reinforcement layers for strength, and a durable cover. General-purpose hoses are available in different sizes and lengths, catering to both residential and industrial needs. They find applications in gardening, irrigation, pneumatic systems, and general fluid transfer tasks.
Reinforced Hoses
Reinforced hoses are engineered to withstand higher pressures and offer increased durability. They feature additional reinforcement layers, such as braided textile, wire braids, or spiral-wound wires, which enhance their strength and resistance to internal and external pressures. Reinforced hoses are commonly used in industrial settings for transferring fluids under high pressure, including hydraulic systems, pneumatic systems, and machinery. They provide reliable performance and can handle demanding applications where standard hoses may not be suitable.
Air and Water Hoses
Air and water hoses are specifically designed for the safe and efficient transfer of compressed air and water. These hoses are constructed to withstand the unique challenges associated with these applications. Air hoses have high burst pressure ratings to handle the pressure generated by air compressors, pneumatic tools, and machinery. Water hoses are engineered to resist abrasion, weathering, and kinking, ensuring reliable water flow for tasks such as irrigation, construction, and general water transfer.
Garden Hoses
Garden hoses are a common sight in residential settings, where they are used for watering plants, washing vehicles, and other outdoor tasks. These hoses are typically lightweight, flexible, and easy to handle. Garden hoses often feature a combination of rubber and vinyl materials, providing the right balance of strength and flexibility. They come in various lengths and diameters to accommodate different garden sizes and water pressure requirements.
Specialty Hoses
In addition to the standard types, there are specialised rubber hoses designed to meet specific industry requirements. These specialty hoses cater to diverse applications such as fuel transfer, chemical handling, oil suction and discharge, food and beverage processing, and automotive cooling systems. Each specialty hose is engineered with materials and features tailored to the unique demands of its intended use.
These hoses often have specific certifications, such as FDA approval for food-grade hoses or industry standards for fuel transfer hoses.
Understanding the different types of rubber hoses allows you to choose the most appropriate hose for your specific application. Consider factors such as the type of fluid or material being transferred, pressure and temperature requirements, environmental conditions, and any specific industry regulations or standards. By selecting the right type of rubber hose, you can ensure efficient fluid transfer, improved productivity, and enhanced safety in your operations.
Other Types Of Rubber Hoses
In addition to the commonly encountered rubber hose types, there are several other specialised hoses designed for specific applications and industries. Let's explore some of these other types of rubber hoses:
Multipurpose Oil Resistant Hose
Multipurpose oil-resistant hoses are designed to handle a wide range of oils, fuels, and petroleum-based products. These hoses are constructed with a synthetic rubber inner tube that is resistant to oil and fuel, along with reinforcement layers for added strength. The outer cover is also resistant to abrasion, weathering, and ozone. Multipurpose oil-resistant hoses find applications in automotive, industrial machinery, and equipment maintenance, where they are used for oil transfer, lubrication, and fuel lines.
High-Temperature Hose
High-temperature hoses are engineered to withstand extreme heat and temperature variations. These hoses are constructed using specialised materials, such as silicone or fluorocarbon rubber, which offer excellent heat resistance. High-temperature hoses find applications in industries like automotive, aerospace, and manufacturing, where they are used for conveying hot air, exhaust gases, or fluids at elevated temperatures. They are designed to maintain their flexibility and integrity even in extreme heat environments.
Fuel Line/Vapor Emission Hose
Fuel lines and vapour emission hoses are specifically designed for the safe transfer of fuels and to control fuel vapour emissions. These hoses are constructed with a fuel-resistant inner tube and reinforcement layers to withstand the pressures and demands of fuel systems. They are often engineered to meet stringent industry standards and regulations for fuel handling, such as SAE J30 or EPA requirements. Fuel line and vapour emission hoses find applications in automotive, marine, and small engine systems, ensuring efficient fuel delivery and minimising environmental impact.
Mud Discharge Hose
Mud discharge hoses are designed for heavy-duty applications in dredging, mining, and construction industries. These hoses are constructed to handle abrasive materials, slurry, and muddy fluids. They feature a robust reinforcement layer, often with high-tensile synthetic fibres or steel wires, for withstanding the high pressures and impacts associated with mud discharge operations. The outer cover is designed to resist abrasion, cuts, and weathering. Mud discharge hoses facilitate the efficient removal of mud, sludge, and debris, ensuring smooth operations and preventing clogging.
Barrier Fuel Line Hose
Barrier fuel line hoses are designed to prevent the permeation of fuel vapours, reducing the risk of emissions and fuel evaporation. These hoses incorporate a special barrier layer within the hose construction to prevent the escape of fuel vapours, meeting strict emission regulations. Barrier fuel line hoses are commonly used in automotive applications, particularly in fuel systems that require compliance with environmental standards and regulations.
Pneumatic/Hydraulic Hose
Pneumatic and hydraulic hoses are specifically designed for the transmission of compressed air and hydraulic fluids, respectively. These hoses are engineered to handle high-pressure applications and are constructed with specialised materials, reinforcement layers, and fittings.
Pneumatic hoses are typically made of synthetic rubber, while hydraulic hoses may incorporate additional reinforcement, such as wire braids or spiral-wound wires, to withstand the high pressures involved in hydraulic systems. These hoses are used in various industries, including manufacturing, construction, and automotive, to ensure efficient and reliable power transmission.
Radiator Hose
Radiator hoses are designed for cooling systems in automotive and industrial applications. These hoses transfer coolant between the engine and radiator to regulate the engine temperature. Radiator hoses are constructed with heat-resistant materials, such as EPDM rubber, to withstand high temperatures and coolant pressures. They are engineered to be flexible and durable, allowing for easy installation and routing around engine components.
Each of these specialised rubber hoses serves a unique purpose in specific industries and applications. Understanding their characteristics and capabilities enables you to select the appropriate hose for your specific needs, ensuring efficient fluid transfer, reliable performance, and compliance with industry standards.
Where to buy rubber hoses in Australia?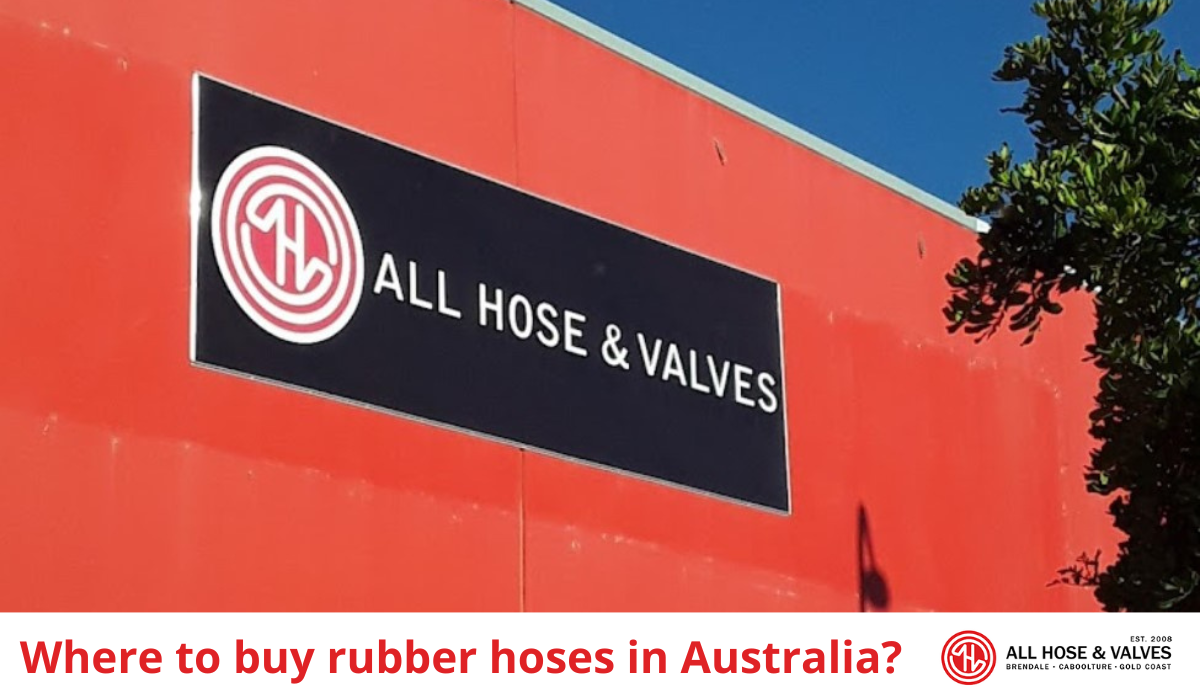 All Hose and Valves is South-East Queensland's leading supplier of hoses of all types, as well as fittings, valves, clamps and numerous other accessories tailored for industrial, commercial and automotive applications. With store locations in Caboolture, Brisbane and the Gold Coast, and an experienced team of hose enthusiasts ready to take your call, there's never been a better time (or place) to buy your next rubber hose! Visit us in-store, browse our website or call us today.
Keep reading: Rubber Hoses: Everything You'll Need to Know