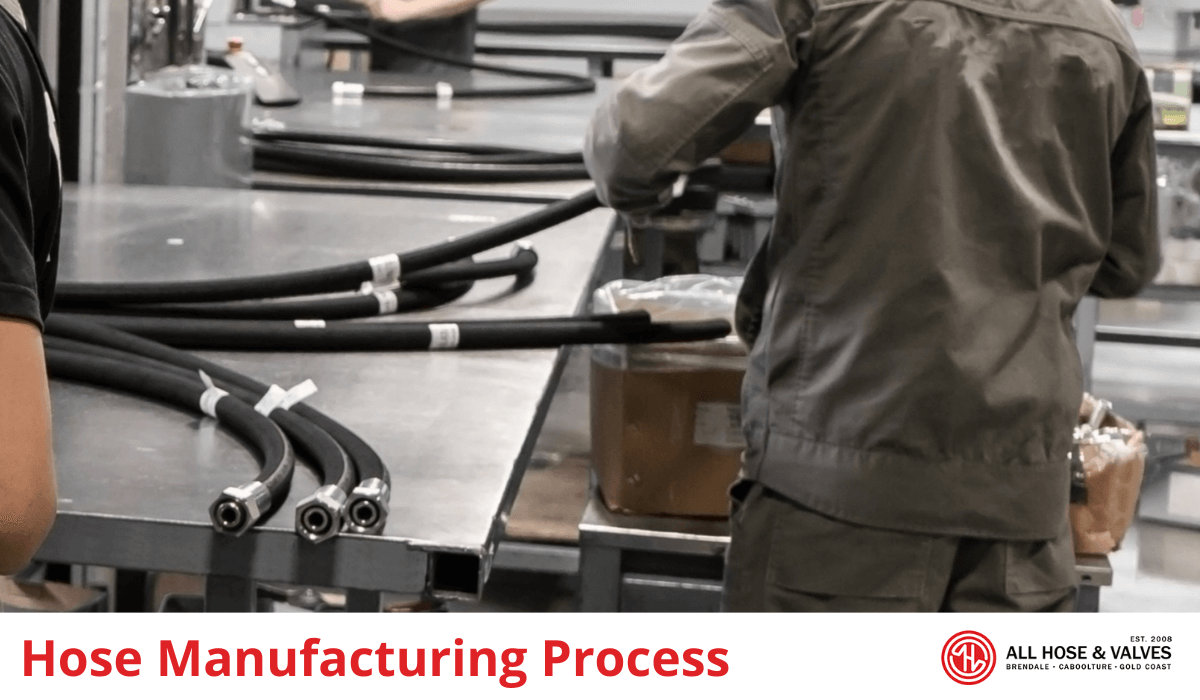 Industrial hoses play a pivotal role in various sectors, serving as the lifeline for a wide range of operations. From transferring water, oil, and gases to conveying materials in manufacturing processes, hoses are integral components in systems that drive our industries forward. The manufacturing of these hoses is a sophisticated process, tailored to produce durable and reliable products that meet the demands of their specific applications.
In this article, we delve into the intricate world of hose manufacturing, exploring how different types of hoses, such as rubber hoses and PVC pipes, are crafted. Each type of hose, with its unique properties and applications, undergoes a distinct manufacturing process to ensure it performs effectively in its intended environment. Understanding these processes not only highlights the complexity behind these seemingly simple products but also underscores the importance of quality and precision in industrial manufacturing.
The Anatomy of Industrial Hoses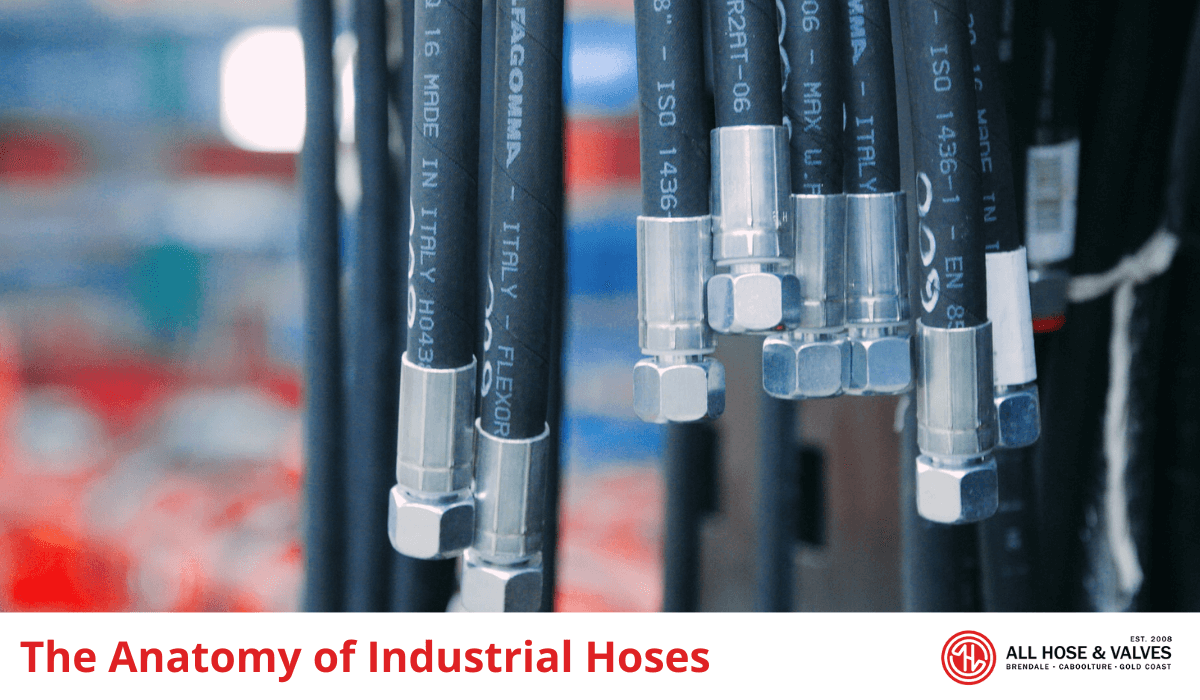 The design of an industrial hose is a study in precision engineering, aimed at delivering performance, durability, and safety. While hoses may appear similar on the outside, their construction varies significantly based on their intended use. The anatomy of industrial hoses typically comprises three crucial layers:
Inner Tube
The inner tube is the hose's core, designed to be compatible with the material it will carry. For instance, hoses used for transporting oils and fuels are made from materials resistant to hydrocarbons. The material selection for the inner tube is critical, as it must withstand the chemical and thermal stresses of the conveyed substance without degrading.
Reinforcement Layer
Surrounding the inner tube is the reinforcement layer, which provides the hose with its strength and flexibility. This layer can be made from various materials, including textile fibres, steel wire, or a combination of both. The configuration of the reinforcement—whether it is braided, spiralled, or knitted—will affect the hose's pressure capabilities and flexibility.
Outer Cover
The outermost layer protects the hose from environmental factors such as abrasion, UV radiation, and extreme temperatures. It is often made from materials like synthetic rubber or PVC, which offer resistance to wear and tear, as well as to oils and chemicals that may be present in the environment.
The construction of these layers can be customised to cater to specific requirements, such as increased flexibility for tight bending radii or enhanced abrasion resistance for harsh working conditions. The choice of materials and construction method directly impacts the hose's performance characteristics, including its pressure rating, temperature range, and lifespan.
Understanding the hose's anatomy is crucial for manufacturers and users alike, as it determines the hose's suitability for various applications. Whether it's a rubber hose designed to handle high temperatures in automotive applications or a PVC hose used for irrigation, the construction must align with its function to ensure efficiency and safety in its application.
In the following sections, we will explore the manufacturing processes for different types of hoses, starting with rubber hoses, to see how these components come together to form a finished product that meets the rigorous demands of industrial use.
Rubber Hose Manufacturing Process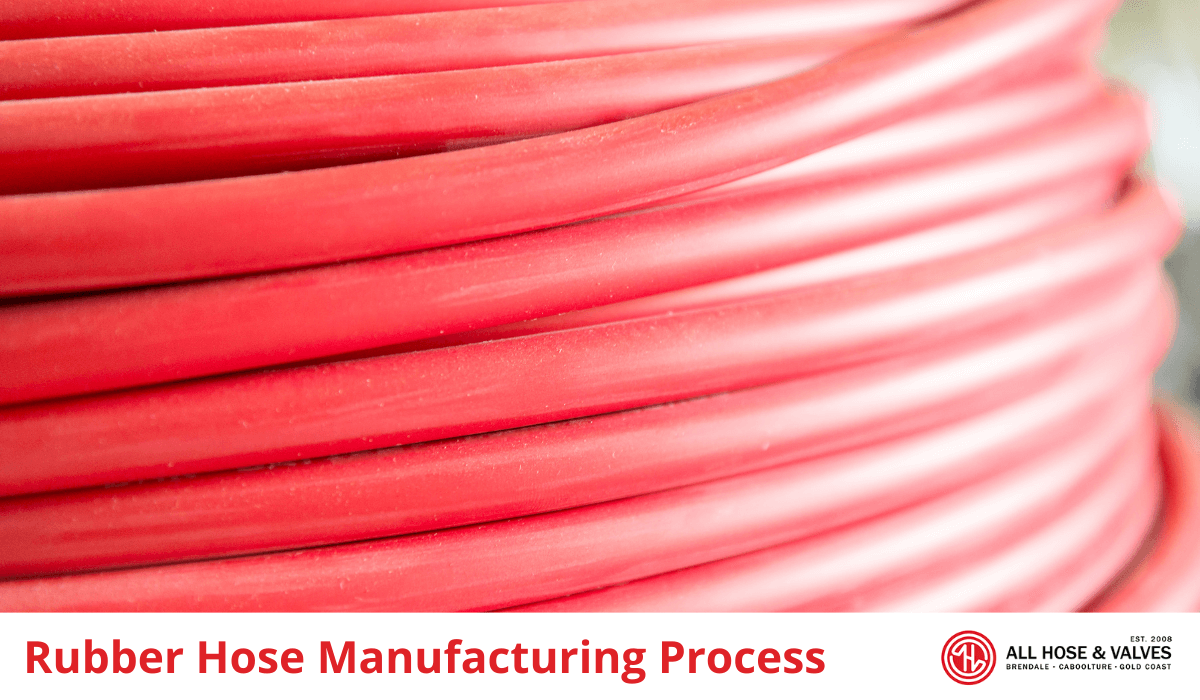 The manufacturing of rubber hoses is a complex process that involves several stages, each critical to ensuring the final product can withstand the rigours of its intended use. Here's a step-by-step breakdown of how rubber hoses are typically made:
Material Selection and Preparation
The process begins with the selection of raw materials. The primary component, rubber, can be natural or synthetic, depending on the hose's requirements. Additives such as carbon black for reinforcement, plasticisers for flexibility, and antioxidants for durability are carefully chosen and blended to create a rubber compound that meets specific performance criteria.
Extrusion of the Inner Tube
The inner tube is the first layer to be formed. The rubber compound is fed into an extruder, where it is heated and forced through a die that shapes it into a continuous tube. The extrusion process must be closely controlled to ensure consistent wall thickness and diameter.
Reinforcement Layer Application
Once the inner tube is extruded, it's time to add the reinforcement layer. This can be done in various ways, such as braiding, spiraling, or knitting textile fibers or wire around the tube. The reinforcement layer is crucial as it provides the hose with the necessary strength to handle internal pressures and external forces.
Vulcanisation
After the reinforcement layer is applied, the hose assembly goes through vulcanisation, also known as curing. This process involves heating the hose in a press or autoclave, which causes the rubber to undergo a chemical reaction that cross-links the polymer chains, giving the material its final properties of elasticity and strength.
Applying the Outer Cover
The outer cover is then applied over the reinforcement layer. This may involve another extrusion process similar to that of the inner tube, or it could be wrapped around the hose in a spiral fashion. The outer cover is designed to protect the hose from environmental damage, abrasion, and other external factors.
Cooling and Finishing
Once the hose is fully assembled, it is cooled slowly to stabilise its form. The hose may then be cut to length, fitted with connectors, or undergo additional finishing processes such as wrapping or labeling.
Quality Control
Throughout the manufacturing process, quality control is paramount. The hose is subject to various tests to ensure it meets the required specifications. These tests can include burst pressure tests, flexibility assessments, and inspections for imperfections or inconsistencies.
Packaging and Shipping
Finally, the hoses are carefully packaged to prevent damage during storage and transport, ensuring they arrive at their destination in perfect condition, ready for use in a wide array of industrial applications.
PVC Hose Manufacturing Process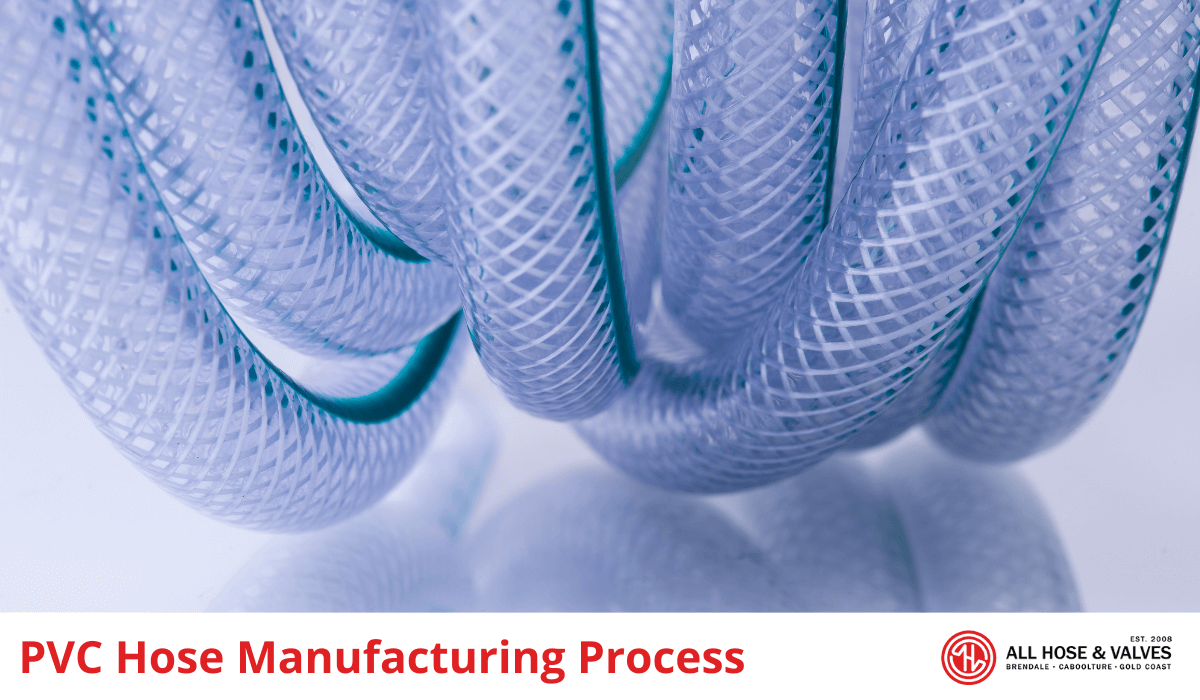 The manufacturing of PVC hoses is distinct from rubber hoses, utilising the unique properties of polyvinyl chloride to produce a versatile and cost-effective product. Here's an overview of the PVC hose manufacturing process:
Raw Material Preparation
PVC hose production starts with the preparation of the raw materials. Polyvinyl chloride resin, the primary ingredient, is mixed with various additives such as stabilisers to prevent degradation, plasticisers to improve flexibility, and lubricants to facilitate processing. The precise formulation is adjusted to meet the desired properties of the final product.
Compounding
The raw materials are compounded into a homogeneous mixture. This is typically done using a high-speed mixer that blends and heats the ingredients, causing the PVC particles to expand and absorb the additives—this process, known as dry blending, results in a dry compound that is ready for extrusion.
Extrusion of the Inner Tube
The compounded PVC material is then fed into an extruder. As it moves through the extruder, it is heated and forced through a die that shapes it into a tube. This tube forms the inner layer of the hose, and its dimensions are carefully controlled to ensure uniformity.
Reinforcement Layer Application
For hoses that require additional strength, a reinforcement layer made of spiral wire or braided fibres is added. This step may be integrated into the extrusion process or performed separately, depending on the type of hose being manufactured.
Additional Extrusion for Outer Cover
Some PVC hoses have an outer layer extruded over the reinforcement to provide extra protection and durability. This outer layer is also made from PVC and can be formulated with different colours or properties, such as UV resistance or anti-static additives.
Cooling and Setting
After extrusion, the hose passes through a cooling tank where it is set into its final shape. The rate of cooling can affect the hose's properties, so this process is carefully monitored.
Cutting and Finishing
The continuous hose length is then cut to specific lengths, and the ends are finished as required. Some hoses may receive fittings at this stage, while others are left plain for custom fitting later.
Quality Control
Quality control is an essential part of the PVC hose manufacturing process. The hoses undergo various tests, including pressure tests, leak tests, and inspections for uniformity and defects, to ensure they meet the required standards.
Packaging and Distribution
Once approved, the hoses are coiled, labelled, and packaged for distribution. Proper packaging is crucial to protect the hoses from damage during transit and storage.
Manufacturing Process of Other Hose Types
While rubber and PVC hoses are among the most common, the industrial world utilises a variety of other hose types, each with its own manufacturing nuances. Here's a brief overview of some other hose types and their manufacturing processes:
Thermoplastic Hose Manufacturing
Thermoplastic hoses, known for their flexibility and high-pressure ratings, are made from thermoplastic material. The process involves extruding the thermoplastic material to form the inner tube, followed by the application of reinforcement layers, which could be made of synthetic fibres or steel wire depending on the pressure requirements. The outer layer is then extruded over the reinforcement. These hoses are known for their tight bend radii and excellent chemical resistance.
Silicone Hose Manufacturing
Silicone hoses, favoured for their high-temperature resistance, are made by shaping uncured silicone rubber into tubes. Reinforcement is added, often in the form of polyester or Nomex fabric or stainless steel wire, to provide strength. The hoses are then cured in high-temperature ovens to set the silicone into its durable and flexible final form.
Teflon (PTFE) Hose Manufacturing
PTFE hoses, with their exceptional chemical resistance, are made by extruding PTFE into a smooth or convoluted tube. A reinforcement layer, typically made of stainless steel wire, is then braided around the tube. These hoses are often used in harsh chemical environments and in applications requiring a high level of purity.
Metal Hose Manufacturing
Metal hoses are made by forming corrugated tubing from thin sheets of metal, usually stainless steel, which provides flexibility and strength. The corrugated tube can be braided with metal wire to increase pressure resistance. These hoses are used in high-temperature applications and where hoses need to maintain their shape under vacuum conditions.
Composite Hose Manufacturing
Composite hoses are constructed from multiple layers of different materials, which can include polyamide, polyester, and polypropylene fabrics and films. These materials are wound around a mandrel in a spiral fashion to create a lightweight yet robust hose. The layers are bound together by adhesives or by melting the layers together. Composite hoses are used for transferring petroleum products, chemicals, and foodstuffs due to their compatibility with a wide range of substances and their excellent chemical resistance.
Polyurethane Hose Manufacturing
Polyurethane hoses are known for their flexibility, abrasion resistance, and strong resistance to oil and chemicals. The manufacturing process typically involves the extrusion of thermoplastic polyurethane around a mandrel to create a smooth, continuous tube. Reinforcement, if needed, is applied, and an outer layer of polyurethane is extruded if additional protection is required. These hoses are often used in pneumatic conveying systems and in the woodworking industry to transport abrasive particles.
Nylon Hose Manufacturing
Nylon hoses are made from extruding high-grade nylon resins to create a tough, lightweight tube. The hose can be reinforced with layers of nylon fabric or fibre for increased pressure resistance. Nylon hoses are often used in high-pressure hydraulic systems and in air brake systems due to their strength and thermal stability.
Layflat Hose Manufacturing
Layflat hoses, which are designed to be flat and compact when not in use, are made by weaving polyester yarn into a tubular form and then coating it with PVC or rubber. This process creates a flexible, high-strength hose that can be easily rolled up and stored. Layflat hoses are commonly used for irrigation, water discharge in construction, and firefighting.
Ducting Hose Manufacturing
Ducting hoses, used for air movement and material handling, are made from a variety of materials including PVC, polyurethane, silicone, and thermoplastics. The manufacturing process often involves the use of a wire helix embedded into the wall of the hose to maintain its shape and provide flexibility. These hoses are used in applications ranging from air conditioning and ventilation to the transfer of fumes and gases.
Specialty and Custom Hose Manufacturing
For unique applications, specialty hoses are custom-designed and manufactured. This can involve special materials, sizes, and construction techniques to meet the specific needs of an application. For example, hoses used in the pharmaceutical industry may be made from materials that meet FDA standards, while those used in the aerospace industry might require materials that can withstand extreme temperatures and pressures.
Each of these hose types is a product of a carefully engineered manufacturing process, designed to fulfill the requirements of various industrial, commercial, and consumer applications. The diversity of hose types underscores the importance of understanding the specific needs of an application to select the appropriate hose.
Quality Control and Testing in Hose Manufacturing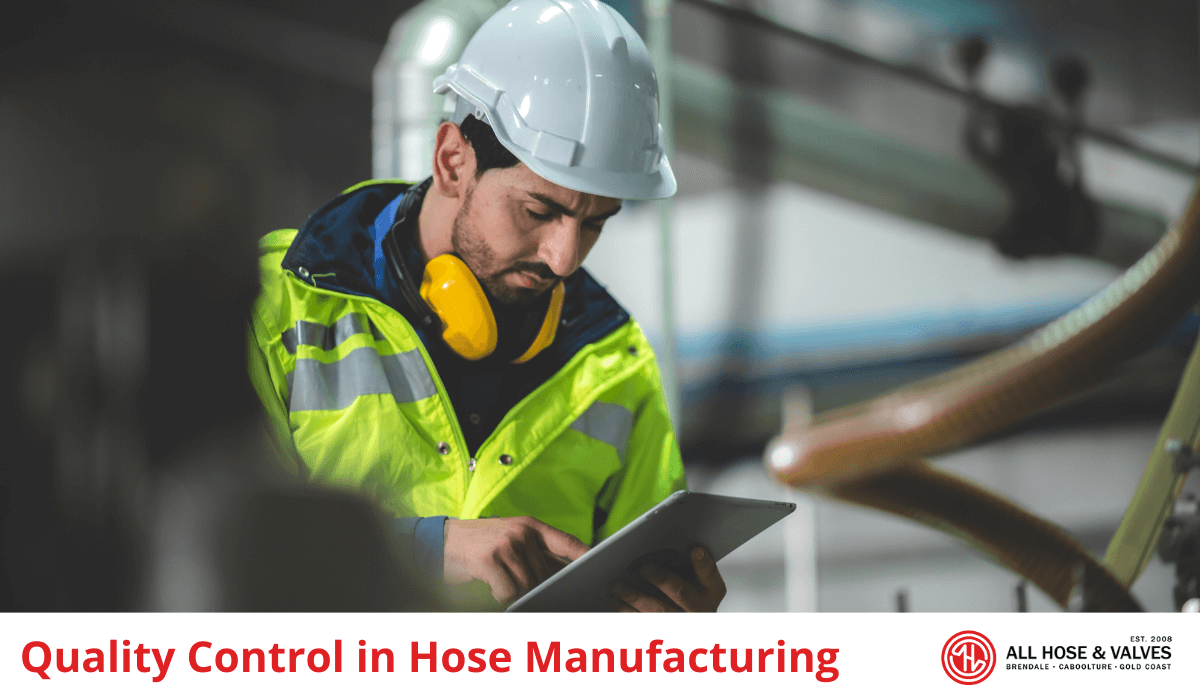 Quality control and testing are critical components of the hose manufacturing process, ensuring that each hose not only meets industry standards but also the specific requirements of the client's application. Here's an insight into the rigorous quality assurance practices:
Material Inspection
Before the manufacturing process begins, raw materials are inspected to ensure they meet the required specifications. This may involve testing the rubber or PVC compounds for consistency, purity, and the correct proportions of additives.
In-Process Inspection
During manufacturing, hoses are regularly inspected for defects. This includes checking for uniformity in wall thickness, diameter, and length, as well as ensuring that the layers are properly bonded. Any hoses that do not meet the stringent criteria are rejected.
Curing and Vulcanisation Control
For rubber hoses, the curing and vulcanisation process is closely monitored. The time and temperature are controlled to ensure that the rubber reaches its optimal state of cure, which is essential for achieving the desired levels of strength and flexibility.
Burst Pressure Testing
Hoses are subjected to burst pressure tests to ensure they can withstand the maximum pressure they are rated for. This test involves subjecting the hose to increasing pressures until it bursts, and the pressure at which this occurs should be well above the hose's rated working pressure.
Impulse Testing
For hoses that will be used in dynamic applications, impulse testing is conducted. This simulates the conditions the hose will face in service, with rapid cycles of pressurisation and depressurisation to ensure the hose can handle the stress over time.
Flexibility and Bend Radius Testing
Hoses are tested for flexibility and minimum bend radius to ensure they can be installed and used in tight spaces without kinking or damaging the hose structure.
Abrasion and Wear Testing
To simulate real-world conditions, hoses may be subjected to abrasion and wear testing. This ensures that the outer cover can withstand contact with rough surfaces and abrasive materials.
Chemical Compatibility Testing
Hoses designed to transport chemicals are tested for compatibility with those substances. This ensures that the hose materials will not degrade or react when in contact with the chemicals they will carry.
Environmental Testing
Hoses are also tested for their ability to withstand environmental factors such as UV exposure, extreme temperatures, and ozone, which could potentially degrade the materials over time.
Final Inspection and Testing
Once hoses are completed, a final inspection is conducted. This includes visual inspections, measurements to confirm dimensions, and pressure tests to ensure the integrity of the hose.
Certification and Documentation
After passing all tests, hoses are certified, and documentation is provided to verify their compliance with industry standards and specifications. This documentation is crucial for users to ensure that the hoses are suitable for their specific applications.
Quality control and testing are not just about meeting regulatory requirements; they are about ensuring reliability, safety, and performance in the field. With this comprehensive approach to quality assurance, customers can have confidence in the hoses they procure for their critical operations.
Applications of Different Hose Types
Industrial hoses are utilised across a vast array of sectors, each with unique demands and operational challenges. The application of a hose is determined by its design, material composition, and the manufacturing process it has undergone. Here's a closer look at how different hose types are employed in various industries:
Rubber Hoses
Rubber hoses are renowned for their flexibility, durability, and wide range of temperature tolerance. They are extensively used in the automotive industry for air brake systems, coolant lines, and fuel hoses. In industrial settings, they serve as air hoses, material handling hoses, and water hoses. Their resistance to abrasion and ability to handle high pressures make them suitable for heavy-duty applications.
PVC Hoses
PVC hoses are prized for their lightweight, affordability, and versatility. They are commonly used in agriculture for irrigation and as suction and delivery hoses in construction. In the food and beverage industry, PVC hoses are used for transferring edible fluids, thanks to their food-grade quality. They are also popular in residential settings as garden hoses due to their flexibility and resistance to environmental elements.
Thermoplastic Hoses
With their excellent chemical resistance and ability to handle high pressures, thermoplastic hoses are often used in hydraulic systems and in the chemical industry. Their tight bend radii make them ideal for use in confined spaces where traditional rubber hoses might not fit.
Silicone Hoses
Silicone hoses, with their high-temperature resistance, are commonly found in the automotive, aerospace, and pharmaceutical industries. They are used for coolant lines in engines, for air ducts in HVAC systems, and for transferring sensitive pharmaceutical products, where cleanliness and non-reactivity are paramount.
Teflon (PTFE) Hoses
PTFE hoses are used in applications that require high chemical resistance, such as in chemical transfer, steam lines, and in the paint and varnish industry. Their non-stick properties also make them suitable for applications where product build-up is a concern.
Metal Hoses
Metal hoses are used in environments that are too harsh for other materials. They are found in the oil and gas industry for transferring fuels at high temperatures, in steel plants for cooling applications, and in the power generation sector for steam and gas transfer.
Composite Hoses
Composite hoses are designed for transferring petroleum products, aggressive chemicals, and gases. They are used in tank trucks, railcars, and in marine applications due to their flexibility and lightweight construction.
Polyurethane and Nylon Hoses
Polyurethane hoses are used in the woodworking industry for dust collection and in pneumatic conveying systems due to their abrasion resistance. Nylon hoses, with their robust thermal stability, are often used in high-pressure hydraulic systems and in automotive air brake lines.
Layflat Hoses
Layflat hoses are particularly useful in agriculture for irrigation and in firefighting for their ease of deployment and storage. They are also used in water pumping applications in construction and mining.
Ducting Hoses
Ducting hoses are essential in HVAC systems, for fume extraction in manufacturing, and for air movement in large industrial facilities. Their ability to handle a range of temperatures and their flexibility make them suitable for a variety of air and particle transfer applications.
The selection of the right hose for a specific application is critical to ensure safety, efficiency, and longevity. Each hose type is engineered to meet the demands of its intended use, and understanding these applications helps in making informed decisions for industrial operations.
Advancements in Hose Manufacturing
The hose manufacturing industry has seen significant technological advancements, leading to improvements in hose performance, safety, and production efficiency. Here's an exploration of the latest trends and innovations in hose manufacturing:
Material Innovations
Manufacturers are constantly developing new materials and compounds to enhance hose properties. For instance, the use of nanomaterials has been explored to improve the strength and chemical resistance of hoses without adding significant weight. New elastomers and thermoplastics are being developed to extend the temperature and pressure ranges of hoses.
Manufacturing Precision
Advances in extrusion and moulding technologies have allowed for greater precision in hose dimensions and wall thickness. Computer-controlled equipment ensures consistent quality and allows for complex shapes and structures that were not possible before, such as multi-layered hoses with integrated reinforcement.
Reinforcement Techniques
The reinforcement of hoses has benefited from new techniques that allow for stronger and more flexible hoses. For example, the use of spiral-wound reinforcement has improved the pressure-handling capabilities of hoses, while braiding technologies have been refined to add strength without compromising flexibility.
Green Manufacturing
Sustainability has become a priority in hose manufacturing. Efforts are being made to reduce waste and energy consumption during production. Additionally, there is a push towards using recyclable and eco-friendly materials, as well as developing hoses that are easier to recycle at the end of their life cycle.
Smart Hoses
The integration of sensors and smart technology into hoses is an emerging field. These "smart hoses" can monitor their own health, track the flow of materials, and even detect leaks or failures before they become critical, leading to safer and more efficient operations.
Customisation and 3D Printing
Customisation is increasingly important in hose manufacturing. 3D printing, also known as additive manufacturing, is being used to produce custom fittings and prototypes quickly and cost-effectively. This technology allows for rapid on-demand production of hoses tailored to specific applications.
Quality Control Automation
Automated quality control systems use cameras and sensors to inspect hoses in real time during production. This not only improves the consistency of the hoses produced but also reduces the time and cost associated with manual inspection.
Lean Manufacturing Practices
Lean manufacturing principles are being adopted to streamline production processes, reduce lead times, and minimise inventory. This approach focuses on customer value and seeks to eliminate waste in all forms, resulting in more efficient operations and reduced costs.
These advancements are shaping the future of hose manufacturing, driving the industry towards more durable, efficient, and intelligent hose solutions. As we continue to innovate, the hose manufacturing process will likely become even more refined, further expanding the capabilities and applications of industrial hoses.
As we've journeyed through the intricate world of hose manufacturing, it's clear that the process is much more than just a production line; it's a sophisticated dance of engineering, material science, and precision craftsmanship. From the robust layers of a rubber hose to the versatile applications of PVC and beyond, each hose type is a testament to the industry's commitment to quality and innovation.
The meticulous manufacturing processes, stringent quality control, and relentless pursuit of technological advancements underscore the industry's dedication to delivering products that not only meet but exceed the rigorous demands of industrial applications.
In conclusion, the manufacturing of industrial hoses is a dynamic field that reflects the ingenuity and adaptability of modern manufacturing. It's a realm where the legacy of tried-and-true methods meets the frontier of innovation, ensuring that no matter the challenge, there will always be a hose designed to meet it with reliability and efficiency.
All Hose: Your Trusted Partner in Industrial Hose Solutions
At the heart of every robust industrial operation is a network of hoses, each serving a critical function. All Hose & Valves, with our extensive experience and expertise, stands as a beacon of quality and reliability in the Brisbane area and beyond. Our commitment to supplying top-tier industrial hoses, fittings, valves, pumps, clamps, and hydraulics is evident in our comprehensive product range tailored to specialised industries.
Our seasoned team ensures that customers receive not only the finest quality products but also straightforward, effective advice backed by decades of industry knowledge. We are market leaders in providing a vast array of hose and valve solutions, including fire hoses for urban, rural, and commercial applications. With All Hose, you can be confident that you are equipped with the best tools for safety and success in any project.
Whether you're in the marine, construction, or any other demanding industry, All Hose & Valves' expert service team and extensive range mean you'll find exactly what you need, every time. Our dedication to excellence makes us the go-to source for all your hose-related requirements, ensuring that your operations run smoothly and efficiently. Contact us to learn more about our wide range of products.