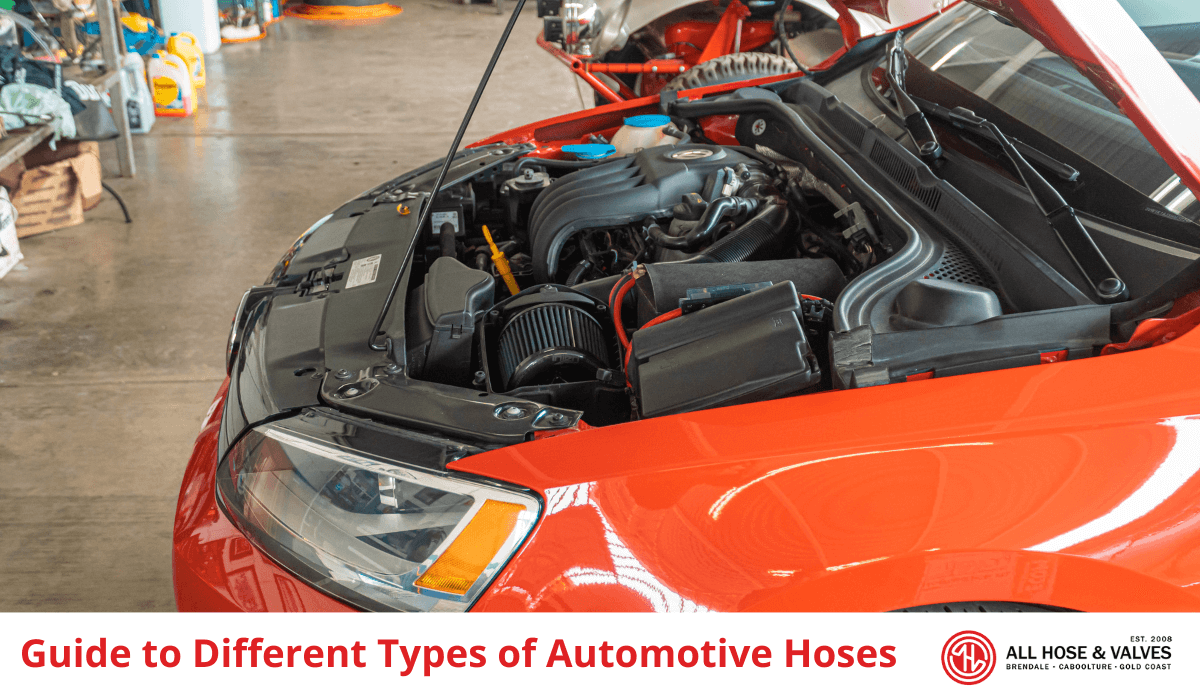 Behind the sleek bodywork and powerful engines that define our beloved automobiles lies a complex network of vital components working together to ensure smooth and efficient operation. From the engine to the radiator, fuel tank to the brakes, a maze of intricate systems interconnects to keep your vehicle in motion. Among these essential elements are automotive hoses – the unsung heroes responsible for transporting fluids, gases, and other critical substances throughout your vehicle.
In this comprehensive guide, we embark on a journey to explore the world of automotive hoses, shedding light on their various types, functions, and the indispensable roles they play in maintaining optimal performance. Whether you're a seasoned automotive enthusiast or a curious beginner, this blog will empower you with the knowledge to understand the significance of these unassuming but indispensable components.
Understanding Automotive Hoses
Automotive hoses serve as vital conduits within a vehicle's complex network of systems, ensuring the seamless transportation of fluids, gases, and other essential substances. These hoses play a crucial role in maintaining optimal performance, reliability, and safety. Let's delve deeper into their significance and explore the materials commonly used in their construction.
Role of hoses in vehicle systems
Automotive hoses act as lifelines, facilitating the transfer of various substances throughout different systems within a vehicle. They are responsible for:
Hoses enable the circulation of fluids such as coolant, fuel, brake fluid, transmission fluid, power steering fluid, and windshield washer fluid. These fluids are essential for the proper functioning and longevity of respective vehicle systems.
Hoses help regulate temperatures by transporting coolant between the engine and the radiator. Efficient coolant circulation prevents overheating, which is critical for engine performance and longevity.
Hoses power auxiliary systems such as the vacuum system and provide the necessary suction for components like the brake booster or HVAC controls. Power steering hoses assist in transmitting hydraulic pressure, aiding in effortless steering control.
Browse: Automotive Power Steering Hose Assemblies
Brake hoses play a pivotal role in transmitting hydraulic pressure from the brake pedal to the brake calipers or wheel cylinders, enabling effective braking and ensuring safety on the road.
Materials used in automotive hose construction
To withstand the demands of different vehicle systems, automotive hoses are constructed using materials with specific properties tailored to their intended functions. Common materials used in automotive hose construction include:
Rubber
Rubber hoses are prevalent in various automotive applications due to their flexibility, durability, and resistance to heat and chemicals. They often feature an inner tube made of synthetic rubber, reinforced with layers of fabric or wire for added strength.
Silicone
Silicone hoses are known for their exceptional heat resistance, making them ideal for high-temperature applications such as coolant hoses in engines. They offer excellent flexibility and are resistant to aging, ozone, and weathering.
Thermoplastics
Hoses made from thermoplastic materials such as nylon or polyurethane exhibit excellent chemical resistance and durability. They are commonly used in fuel and brake systems.
Metal
Metal hoses, typically made of stainless steel, are used in specialised applications that require high-pressure resistance or extreme temperature environments. They offer exceptional durability and resistance to corrosion.
Composite
Composite hoses combine different materials, such as rubber and fabric or rubber and metal, to leverage the strengths of each component. These hoses provide enhanced flexibility, chemical resistance, and durability.
The selection of materials depends on factors such as the intended application, temperature range, pressure requirements, chemical compatibility, and overall performance expectations. Manufacturers carefully consider these factors to ensure that the hoses meet the demanding conditions within automotive systems.
By understanding the crucial role of automotive hoses and the materials employed in their construction, we gain a deeper appreciation for these unassuming yet indispensable components. In the subsequent sections, we will explore specific types of automotive hoses in detail, unravelling their unique characteristics, maintenance considerations, and the vital functions they serve within a vehicle's intricate systems.
Different Types of Automotive Hoses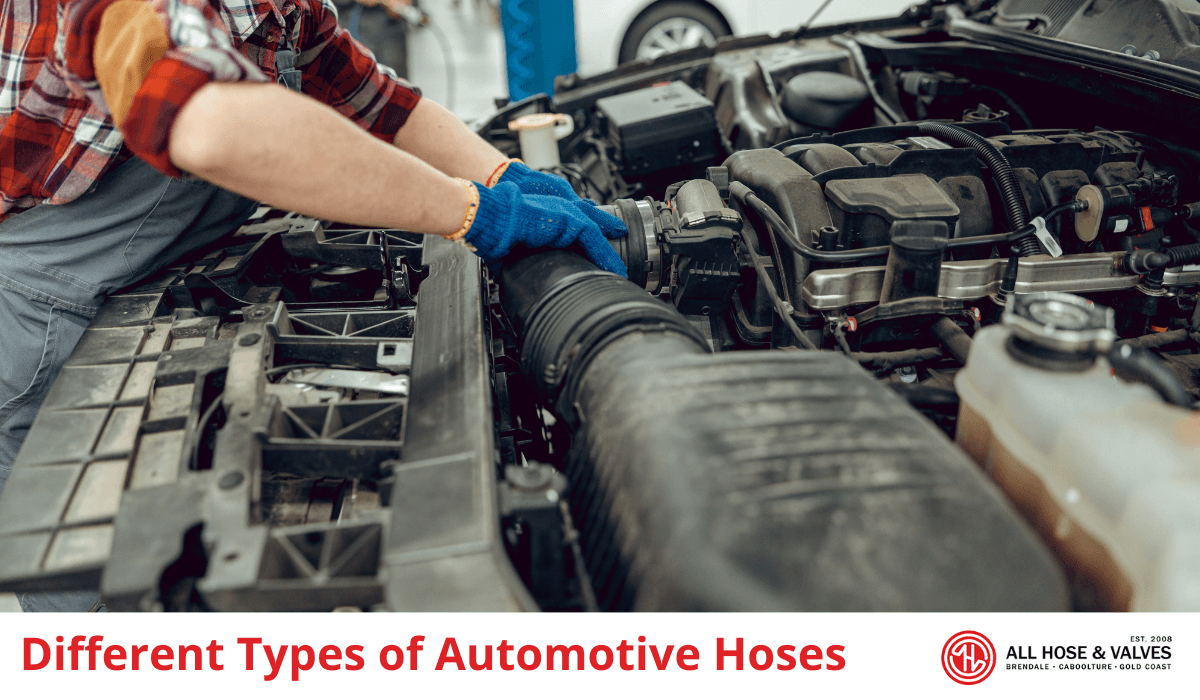 Automotive hoses come in various types, each designed to serve specific functions within a vehicle's complex systems. In this section, we will explore the different types of automotive hoses, starting with coolant hoses, which are crucial for regulating the engine's temperature.
Coolant Hoses: Regulating Engine Temperature
Coolant hoses are vital components in the engine cooling system, responsible for circulating coolant between the engine and the radiator. They play a critical role in maintaining optimal operating temperatures for the engine, preventing overheating and ensuring efficient performance. Let's delve into the function, importance, types, maintenance tips, and signs of wear associated with coolant hoses.
Function and importance of coolant hoses
Coolant hoses serve as conduits for the flow of coolant, which absorbs and dissipates excess heat from the engine. The coolant, typically a mixture of water and antifreeze, absorbs heat from the engine block and transfers it to the radiator, where it is dissipated into the surrounding air. The hoses ensure that the coolant flows seamlessly between these components, maintaining the engine within the desired temperature range.
The proper functioning of coolant hoses is crucial for several reasons. First and foremost, they help prevent the engine from overheating, which can lead to severe damage and engine failure. Additionally, efficient coolant circulation ensures consistent engine performance, optimal fuel efficiency, and reduced emissions. As such, maintaining coolant hoses in good condition is essential for the overall health and longevity of the vehicle.
Common types of coolant hoses
1. Radiator Hoses
Hoses like our Black Rubber Radiator Hose connects the engine to the radiator, facilitating the flow of coolant between the two components. Radiator hoses are typically larger in diameter to accommodate the volume of coolant required for effective cooling.
2. Heater Hoses
Heater hoses supply coolant to the vehicle's heating system, which provides warmth to the passenger cabin. They circulate hot coolant from the engine to the heater core, where the heat is transferred to the air blown into the cabin.
Maintenance tips and signs of wear
Regular maintenance and inspection of coolant hoses are crucial for identifying potential issues and ensuring their optimal performance. Here are some maintenance tips and signs of wear to be mindful of:
1. Regular Inspection
Periodically check the condition of coolant hoses, looking for signs of leaks, cracks, bulges, or soft spots. Inspect hose connections for tightness and signs of coolant residue.
2. Coolant Flush
Follow the manufacturer's recommended maintenance schedule for coolant flushes. Over time, coolant can degrade, leading to corrosion and clogging in the cooling system, which can affect hose performance.
3. Proper Tension
Ensure that coolant hoses are properly tensioned and securely clamped in place. Loose or worn-out clamps can cause leaks or hose detachment.
4. Signs of Wear
Watch for signs of wear such as coolant leaks, engine overheating, reduced heating performance, or coolant odour. These can indicate hose deterioration or failure.
By being proactive in maintaining coolant hoses, you can prevent unexpected breakdowns, engine damage, and costly repairs. Regular inspection, timely replacement when necessary, and adherence to recommended maintenance practices will help ensure the longevity and reliable performance of coolant hoses in your vehicle.
In the next section, we will explore another critical type of automotive hose—fuel hoses. We will uncover their role, types, considerations, and maintenance tips associated with the proper functioning of a vehicle's fuel system.
Fuel Hoses: Delivering Power to Your Engine
Fuel hoses like the Black Rubber Fuel Hose SAE 30R7 play a vital role in the vehicle's fuel system, delivering the lifeblood that powers the engine. These hoses are responsible for transporting fuel from the fuel tank to the engine, ensuring a steady and reliable flow of fuel for combustion. In this section, we will explore the significance of fuel hoses, the different types available, and important maintenance and safety considerations associated with their use.
Significance of fuel hoses in the vehicle's fuel system
Fuel hoses serve as essential conduits within the vehicle's fuel system, responsible for delivering fuel from the tank to the engine. They play a crucial role in maintaining a constant flow of fuel, allowing the engine to operate smoothly and efficiently. Without reliable fuel hoses, the engine's performance would be compromised, leading to reduced power, poor fuel economy, and potential engine damage.
Fuel hoses must possess specific properties to ensure their effectiveness within the fuel system. They need to be able to withstand the pressure generated by the fuel pump, resist the corrosive nature of certain fuels, and maintain their structural integrity under various operating conditions. Proper selection, installation, and maintenance of fuel hoses are crucial to prevent fuel leaks, fuel system malfunctions, and potential safety hazards
Different types of fuel hoses and their properties
Several types of fuel hoses are available, each designed to meet specific requirements and fuel system applications. The most common types of fuel hoses include:
1. Rubber Fuel Hoses
These hoses are made from synthetic rubber compounds, often reinforced with braided textile or wire for added strength. Rubber fuel hoses are versatile, affordable, and widely used in various automotive applications. They exhibit good resistance to fuel and are compatible with most fuel types.
2. Fluoroelastomer Fuel Hoses
Fluoroelastomer hoses are highly resistant to fuel and other chemicals. They offer superior performance in applications where exposure to aggressive fuels or high temperatures is expected. Fluoroelastomer hoses are often used in performance and high-end vehicles.
Maintenance and safety considerations for fuel hoses
Proper maintenance and safety considerations are crucial for ensuring the reliable operation of fuel hoses. Here are some important guidelines to keep in mind:
1. Regular Inspection
Periodically inspect fuel hoses for signs of wear, cracking, bulging, or leaks. Pay close attention to hose connections, fittings, and clamps. If any damage is detected, the affected hoses should be replaced promptly.
2. Proper Installation
Ensure that fuel hoses are installed correctly, with proper fittings, clamps, and routing. Improper installation can lead to leaks, reduced fuel flow, and potential safety hazards.
3. Fuel Compatibility
Confirm that the fuel hoses are compatible with the specific fuel type used in your vehicle. Certain fuels, such as ethanol blends, may require hoses specifically designed for their chemical properties.
4. Replacement Interval
Although fuel hoses do not have a specific replacement interval, it is generally recommended to replace them every five to eight years or as recommended by the vehicle manufacturer. Aging hoses can become brittle and prone to failure, leading to fuel leaks.
By adhering to these maintenance and safety considerations, you can help ensure the integrity and proper functioning of fuel hoses within your vehicle's fuel system. Regular inspections, timely replacements, and using hoses suitable for the fuel type are crucial for maintaining a reliable and safe fuel delivery system.
Brake Hoses: Ensuring Safe Stopping Power
Brake hoses are crucial components in a vehicle's braking system, responsible for transmitting hydraulic pressure from the brake pedal to the brake callipers or wheel cylinders. These hoses play a vital role in ensuring safe stopping power and responsive braking performance. In this section, we will explore the importance of brake hoses, their characteristics and construction, as well as maintenance and inspection guidelines to keep them in optimal condition.
Importance of brake hoses in the braking system
Brake hoses are integral to the proper functioning of the braking system, which is essential for vehicle safety. When the brake pedal is depressed, hydraulic pressure is generated in the master cylinder. Brake hoses transmit this hydraulic pressure to the brake callipers or wheel cylinders, causing the brake pads or brake shoes to engage with the rotors or drums. This hydraulic force converts the vehicle's kinetic energy into heat, resulting in friction that slows down or stops the vehicle.
The reliable and efficient operation of brake hoses is critical for safe braking. Any weakness or failure in the brake hoses can lead to a loss of hydraulic pressure, resulting in reduced braking performance or even complete brake failure. Therefore, maintaining the integrity of brake hoses is vital for ensuring safe stopping power and responsive braking in various driving conditions.
Characteristics and construction of brake hoses
Brake hoses are engineered to possess specific characteristics to withstand the demanding conditions of the braking system. Here are some key features and construction elements of brake hoses:
1. Durability
Brake hoses are designed to withstand high hydraulic pressures and endure the stresses of braking forces. They are typically made from synthetic rubber, reinforced with braided or spiralled metal wire for strength and durability.
2. Flexibility
Brake hoses need to be flexible to accommodate suspension movements and steering angles while maintaining a constant flow of hydraulic fluid. This flexibility allows for smooth and consistent braking performance.
3. Heat and Chemical Resistance
Brake hoses must withstand high temperatures generated during braking. They are constructed using materials that exhibit excellent heat resistance, preventing deformation or degradation under extreme conditions. Additionally, brake hoses are engineered to be resistant to brake fluid and other chemicals present in the braking system.
Maintenance and inspection guidelines for brake hoses
Proper maintenance and regular inspections are essential to ensure the reliable performance of brake hoses. Here are some guidelines to follow:
1. Visual Inspection
Regularly inspect brake hoses for signs of wear, cracks, bulges, or leaks. Pay close attention to areas near hose fittings and connections. If any damage is detected, the affected brake hose should be replaced immediately.
2. Brake Fluid Check
Monitor the level and condition of brake fluid regularly. Contaminated or deteriorated brake fluid can cause damage to the brake hoses. If the brake fluid appears discoloured or contaminated, it may be necessary to flush and replace the fluid.
3. Replacement Interval
While brake hoses do not have a specific replacement interval, it is generally recommended to inspect them during routine brake system maintenance and replace them if any signs of wear or damage are present. As a general guideline, consider replacing brake hoses every 5 to 7 years or as advised by the vehicle manufacturer.
4. Professional Inspection
 It is advisable to have a professional mechanic inspect the brake hoses during regular brake system maintenance or whenever any brake-related service is performed. They can assess the condition of the hoses more thoroughly and identify any potential issues that may compromise brake performance.
By following these maintenance and inspection guidelines, you can ensure the brake hoses' integrity and reliability, promoting safe and efficient braking performance. Regular inspections, timely replacements, and seeking professional assistance will aid in maintaining the effectiveness of the braking system, offering peace of mind during your drives.
Automotive Hoses, Clamps and Fittings for Different Applications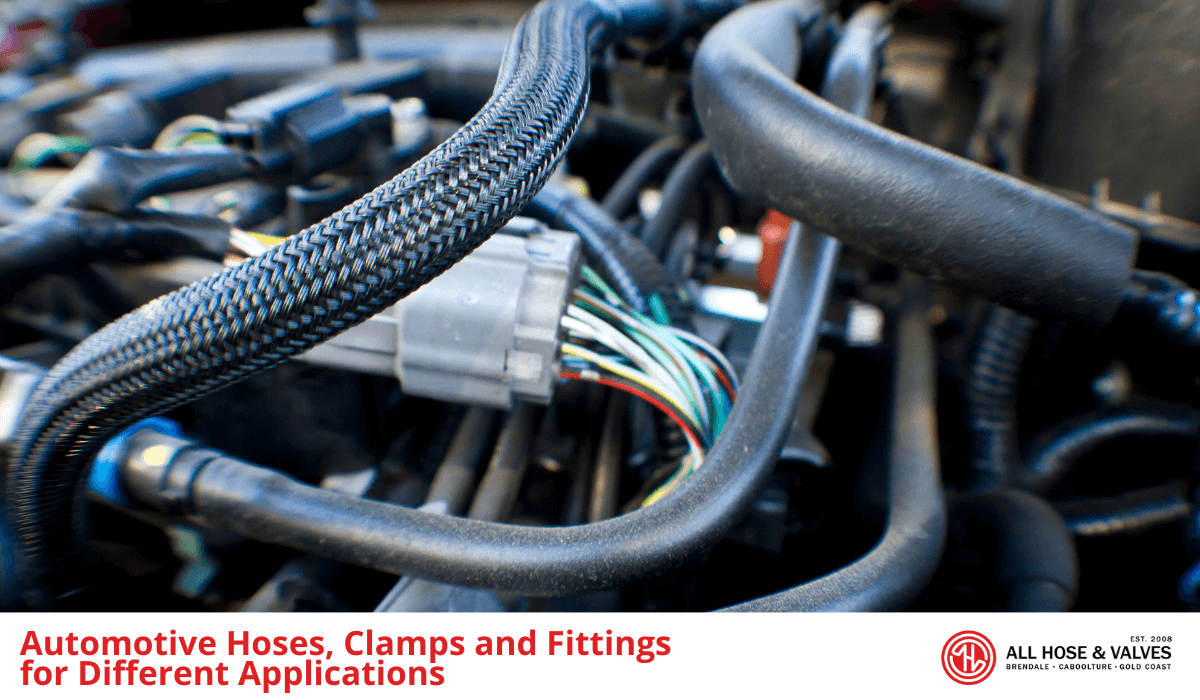 In addition to coolant hoses, fuel hoses, and brake hoses, there are various other types of automotive hoses that serve specific applications within a vehicle's complex systems. Let's explore a few more types of automotive hoses and their functions:
Black Rubber Elbows
Black rubber elbows are versatile components used in automotive systems where flexibility and durability are crucial. These elbows allow for changes in direction or angle in hose routing. They are commonly used in air intake systems, turbocharger connections, and exhaust systems.
Stainless Steel Band Clamps
Stainless steel band clamps are essential for securely connecting and sealing hoses, especially in high-pressure applications. These clamps provide a tight and reliable connection, ensuring that hoses remain securely attached. They are commonly used in various automotive systems, including coolant, fuel, and exhaust systems.
Super Clamps
Super clamps, also known as T-bolt clamps, are heavy-duty clamps designed for high-pressure applications. They provide superior sealing and resistance to vibration, making them ideal for securing reinforced hoses in turbocharger systems, intercoolers, and intake systems.
Mini Clamps
Mini clamps are smaller-sized clamps commonly used in automotive applications that require a secure and tight connection in limited space. They are typically used in smaller diameter hoses and can be found in systems such as vacuum lines, emission control systems, and windshield washer systems.
TPRD Neoprene Ducting
TPRD (Thermoplastic Rubber Ducting) neoprene ducting is a flexible hose used in ventilation and air intake systems. It offers excellent resistance to temperature extremes, chemicals, and abrasion. TPRD neoprene ducting is commonly used in automotive applications such as air intake systems, heater systems, and defroster ducts.
Plastiflex Ducting
Plastiflex ducting is a lightweight and flexible hose commonly used in automotive applications that require air or gas flow. It is resistant to chemicals, weathering, and UV radiation, making it suitable for applications such as ventilation systems, air conditioning, and exhaust gas recirculation (EGR) systems.
By incorporating these additional types of automotive hoses into your understanding, you gain a broader perspective on the diverse range of components that contribute to the efficient operation of vehicles. Each of these hose product serves a specific purpose and plays a vital role in maintaining optimal performance, reliability, and safety within automotive systems.
Get Quality Automotive Hoses at All Hose & Valves
When it comes to automotive hoses, quality and reliability are paramount. Ensuring that your vehicle's hoses are made from durable materials and designed to withstand the demands of various systems is essential for optimal performance and safety. That's where All Hose & Valves comes in.
At All Hose & Valves, we specialise in providing top-quality automotive hoses for a wide range of applications. Whether you're in need of coolant hoses, fuel hoses, brake hoses, or other specialised hoses, we have you covered. Our commitment to excellence and customer satisfaction has made us a trusted supplier in the automotive industry.
Why Choose All Hose & Valves?
Extensive Product Range
We offer an extensive selection of automotive hoses to meet your specific needs. From rubber hoses to silicone hoses, stainless steel band clamps to mini clamps, we have a comprehensive range of products that cater to different applications and requirements.
High-Quality Materials
We understand the importance of using premium materials in the construction of automotive hoses. That's why all our hoses are manufactured using top-grade materials that exhibit excellent durability, resistance to heat, chemicals, and wear. With our hoses, you can have peace of mind knowing that they are built to last.
Rigorous Quality Control
We take quality seriously. Our automotive hoses undergo strict quality control measures to ensure that they meet the highest standards. We test each hose for strength, flexibility, and compatibility with specific automotive systems. This rigorous quality control process ensures that you receive hoses that perform reliably in your vehicle.
Expert Advice and Support
Our knowledgeable team of experts is always ready to assist you in finding the right hoses for your automotive needs. Whether you have questions about compatibility, installation, or maintenance, we provide personalised advice and guidance to help you make informed decisions.
Competitive Pricing
We believe that quality automotive hoses should be accessible to all. That's why we offer competitive pricing without compromising on the quality of our products. With All Hose & Valves, you get exceptional value for your investment.
Experience the All Hose & Valves Difference
When it comes to automotive hoses, don't settle for anything less than the best. Choose All Hose & Valves as your trusted supplier and experience the difference in quality, performance, and customer service. Whether you're a professional mechanic or a passionate car enthusiast, we have the automotive hoses you need to keep your vehicle running at its best.
Contact us today to explore our wide range of automotive hoses and let our team assist you in finding the perfect solutions for your specific requirements. With All Hose & Valves, you can have confidence in the quality and reliability of your automotive hoses.